This white kitchen sink has apparently been discolored by food, coffee, and nasty dish water.  I thought that the stains would never come off.  To my surprise the stains came right off with the help of Shaklee Scour Off. With a kitchen scrubby sponge and a little elbow grease it came right off. I absolutely love Shaklee Scour Off. Not only is this product 100% natural but it is also very inexpensive . Oh and did I mention that it smells great. It is made from cherry pits so it has a great scent to it.  The Shaklee Company is the number one natural nutrition company in the United States and it is the first company in the world to be certified Climate Neutral! You have to try Shaklee Scour Off for yourself!
This was the kitchen sink before.
After the Shaklee Scour Off … it looks like a brand new sink!
This was the worst part of the sink. It had the most stains.
This is the drain after I cleaned it.  It looks amazing, I just love it!!!
The right side of the sink before.
The right side of the sink after.
The left side of the sink wasn't the worst, but...
You can see a big difference now.
Instead of buying a new sink I just had to clean up this one with the Get Clean Scour Off Heavy Duty Paste!   It is an exclusive scouring cleanser that sets a new standard. It's a paste, so it doesn't form dust clouds. It cleans stuck-on messes. It even cleans food that is burnt-on in your oven and it doesn't burn off your nose hairs in the process.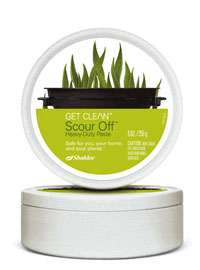 Try and see for yourself.  It has a 100% money back guarantee. You have nothing to lose, it really works. You won't regret it, I didn't.
~Elisabeth